Post by leesilm on May 22, 2018 6:03:29 GMT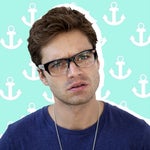 See, I finally need to get around to adopting a pup myself, then I may know all these things.
If you ever get a chance, watch some of the older DOG WHISPERER episodes, cause the guy from that show uses a thing that goes on the dog's faces because you can give it a slight tug to redirect a dog away from say a plate of bacon on a stranger's table as you are walking down a city street, or from putting their noses into a stranger's purse. My pup likes to pull as if she were Balto bringing the medicine to the kids in Alaska, even if it is just us walking in the yard, so I got her a harness that goes across her chest. It's really meant for riding in the car (that way if I had to hit the breaks or we had an accident, her collar wouldn't choke her/she can be hooked into the seatbelt just like a kid), but it saves her from hurting her neck as she pulls. I tried all the training tricks and the face-strap, to no avail. She is muscular enough around her neck and shoulders that I don't think the collar tugging at her throat is enough of a deterrent for her. And I refused to get one of those chain ones that actually shortens when the dog pulls, so it strangles the puppy. I just couldn't do that.
Also, if you travel a lot in the car or anything where you can't hold a leash and/or you'd prefer to not to have the dog(s) in a kennel, they have a strap you can put in the clothing hangers located over most backseat side-windows in the car, and a second strap comes from it using one caribeaner/debeaner (the ones used in rock climbing) to hold onto the first strap and a second to latch onto the dog's harness. That way, you can keep the dog with you in the car, then use the second strap as a leash when you take the dog out for potty breaks or whatever reason you are getting out of the car. I also use this second leash with the caribeaners, to attach the dog safely to the cart/buggy at the store, so she can ride with me. With her vest/harness and this strap, she's safe so she can't fall or jump out of the cart every time someone moves to pet her or she smells something yummy (don't worry, I put a mat and blankets in with her, so she's not standing on the metal or plastic of the cart), allowing her to ride along with me and socialize as I grocery shop, get books, etc.