Post by Zak on Feb 16, 2017 0:54:03 GMT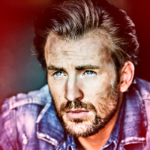 I explained that the tele was crap, but if he wanted to put something else on to feel free
He pays the tivo bill after all.
Anyway we ended up watching it all, you'd think that would be wierd a 60 year old man watching a movie basically about peoples sex lives with his 20 something daughter.
Wasn't wierd at all and he loved it.
The bit I thought would make him crack and have to find something else was in the bar when the girls are playing the game with the numbers on the pieces of paper, guessing who's were who's.
When they're all shocked at 13! and she just states "geeez, it's not like they were all in there at the same time" he burst out laughing
Gotta admit that post sounds kinda deep, and I've just spent the last 10 minutes watching the gifs you and Picap posted of Chris in various states of undress...I'm not as deep as I think I am! Lol
Well, your dad kind of put the spanner in the works of my theory but I don't particularly like this film either. My theory touches on what picap mentioned earlier today The Mancrush. I admit to it more than happily myself. The truth is that there's an army of us out there. However, I think that if a guy is really nice and he's also good looking girls will obviously like him. If he's a bit of a dick then girls will still be swayed at least for a while by his looks and look for the good in him or even convince themselves he's nicer than he really is. Don't deny it girls, we all know the good looking dickhead who gets all the girls and the ordinary nice guy who gets overlooked. Men do the same but that's for a different post.
However, the mancrush works differently. If a bloke is nice and we like him and he's also good looking and popular you might get the mancrush BUT if he's a dickhead his good looks make you hate him more than you would if he was plain. Put simply, for us if he's a dickhead his good looks actually work
against
him. Not only is he a knob but we're jealous of his looks and success with the girls.
That's my theory for why Bs and me don't like Colin in a major way! Girls can see his charm and potential. We just don't want to know!
I don't know if that works the same for gay guys. I'd be interested to know that.
With JenSai's dad maybe being of a different generation he has a more paternal view of both Ally and Colin whereas younger guys see him as a threat. JenSai - ask him how he would feel about you dating Colin. I wonder what he'd say!