Post by Bob on Apr 2, 2017 13:56:38 GMT
www.flickr.com/photos/chrisevansforum/albums/72157711408656817
---
Chris's cousin opened a restaurant in Newburyport, MA and they combined the opening day with a fundraising event for
The Pettengill House
which is a local charity providing assistance to families in need.
Chris and his family came along to support the event and Chris offered to do a 'meet and greet' specially for children. He and his mother sat for hours talking to the children, posing for photos and signing autographs.
Hundreds come out to meet Hollywood actor at newly opened Newburyport restaurant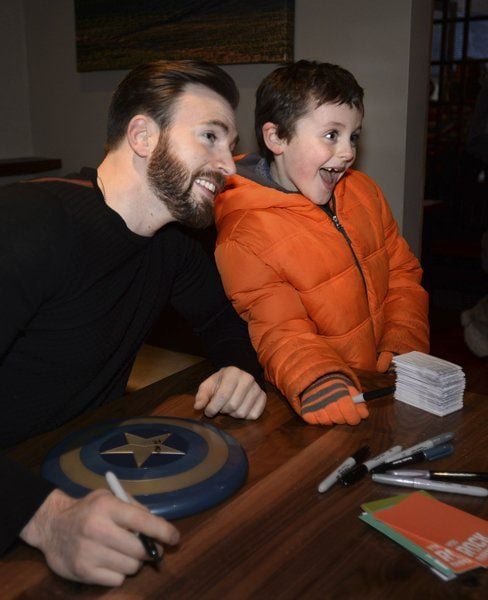 NEWBURYPORT — Captain America arrived in Newburyport yesterday afternoon, raising over $3,000 for The Pettengill House.
"I have never been up here before. This is great, this is great," said Chris Evans, the Hollywood actor who plays Captain America on the big screen. "It's nice to be able to do things like this. We talked about doing this over Thanksgiving, but then you see it come together and it is very rewarding."
A Sudbury native, Evans signed autographs for roughly 100 kids under the age of 16 who lined up in the snow in The Tannery parking lot to see the star of 2011's "Captain America: The First Avenger," 2012's highest-grossing film "The Avengers," 2013's "Snowpiercer" and 2014's third-highest grossing film "Captain America: The Winter Soldier."
"It is an honor to be able to bring any type of happiness to people, especially at this time of the year," Evans said. "I know that is kind of cheesy, but I am a sucker for Christmas and I like to give back. That feels good."
Evans was lending a helping hand to both The Pettengill House as well as his cousin, Robert Veek, whose restaurant Fifty Water Restaurant & Bar celebrated its ribbon-cutting ceremony with Newburyport Mayor Donna Holaday just prior to the autograph signing.
"I still think that there are a lot of superheroes in our community, but they prefer to be behind the scenes doing great work," Holaday said. "But it is very exciting to see all the excitement of the kids and their enthusiasm and I think it is fabulous that they are raising money for The Pettengill House tonight."
After the autograph signing, Evans, his brother, Scott, two of his aunts and his mother, Lisa, hosted a sold-out charity holiday party that raised over $3,000 for the Salisbury-based nonprofit that supports underprivileged children and families in the Greater Newburyport area. The idea for the dual events came from a family conversation over Thanksgiving.
"This got put together so fast and this is the same kind of cause that we both would want to do. It was just meant to be," Veek said. "There are a lot of different charities in Newburyport. I know (The Pettengill House) is across the river, but they have a location here too. It was a perfect cause."
Twelve-year-old Casey Holmes of Newburyport waited for two hours in the snow after his mother texted him about the autograph event while he was in school.
"I can't feel my toes," Casey said. "But it was totally worth it. I got my comic book signed. He is super nice. I asked them how in the beginning of the movie when he is all scrawny and they make him big and buff, I don't know how they do that. I also asked him if he had a white Ferrari with red interior."
Maya Gastman, 15, of Newburyport got a quick autograph from Evans as her friend, Shae Gallagher, 9, of Newburyport had a Captain America shield signed and Gallagher's sister, Izzy, 11, had a trading card signed by Evans.
"It was a cool opportunity," Maya said. "It was very super."
Steve Hanshaw of Amesbury waited for two and a half hours to have a comic book and poster signed by Evans.
"It was worth it, no doubt," Hanshaw said. "Especially since he is such a great guy. You would think that movie stars would be snooty and wouldn't want to hang out with people and do charity events. But he is great and hilarious. I'm glad he did this."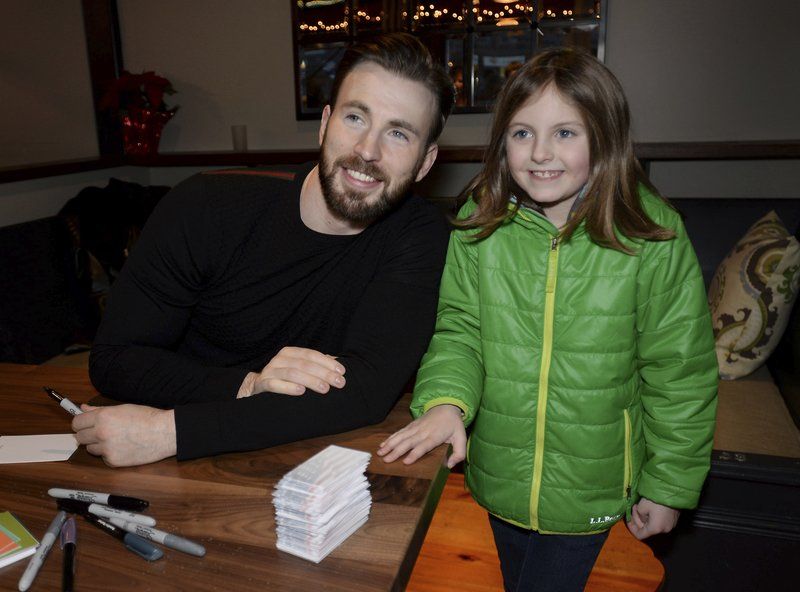 Assisting her son while he signed autographs, his mother said she is still getting used to having a superhero in her life.
"This is a little bit phenomenal," Lisa Evans said. "This is a little bit bizarre from my point of view. But kids are his bliss. He loves kids. I've been with him when he is on set and you will be standing there and people are screaming and all of a sudden he will look over and see a little guy with a shield and just walks right over. That is his comfort level because it is pure, it is innocent, it is sweet, it is that hero stuff. He takes his role very, very seriously. He had those feelings for heroes when he was a kid. He still gets shaky knees about Tom Brady. So he gets it."
Evans will begin production on "Captain America: Civil War" in the spring right before "Avengers: Age of Ultron" opens in May.
"These are all dreams," Evans said. "And I am just lucky and grateful and just happy to be here. I'm along for the ride, really."
www.bostonmagazine.com/arts-entertainment/2014/12/12/chris-evans-meet-and-greet-fundraiser-newburyport/
Kids Said the Darndest Things at Chris Evans's Meet-and-Greet in Newburyport
He hosted a killer fundraiser, too, but it was naturally less amusing.
Despite that hefty title as America's Most Wanted superhero, Chris Evans is a simple kind of guy. He's from Sudbury. He drinks beer. He's close with his mom, and he's generally the first one to say, "Let's take a picture!"
Which made for great atmosphere for the many kinds of fans who went out to his meet-and-greet in Newburyport on Thursday night, an event held before a fundraiser hosted at his cousin's restaurant, Fifty Water. His family attended the occasion including his mom, Lisa, his soap opera actor brother, Scott, and his two aunts from Somerville and Framingham.
Lisa sat right next to Evans at the meet-and-greet table, and is the kind of lady who is so obviously a mother of four. She encouraged kids to show off their Captain America shields, and clapped when they flexed for the cameras next to her son. "Wait, Chris, look at his star socks! Show Chris your socks!" Lisa Evans might be an actual supermom.
While Evans is no stranger to doting attention from women of a certain age, and general prying into his life from the media, he found himself faced with a different sort of authority. Kids say and do the weirdest things at inopportune times. Last night was no exception.
One boy, no older than 8 years old, walked up to Evans with a T-shirt to sign. "Hey, buddy," Evans said.
"What kind of car do you have?" The boy asked right off the bat. Evans said he didn't know then muttered something about not being into cars. "Well, are you a millionaire? What about a billionaire?" the boy asked before being dragged away by his extremely flustered parent, likely dying of inner-embarrassment.
Another boy named Andrew, about three years old, is Captain America's biggest fan, he told Evans. "Is that right?" Evans asked. "Yes, it is," said the boy stoically, insulted as any three-year-old could, that he was being questioned about his fan status.
Then, a new mother showed up with her baby strapped to her front, and almost as soon as she approached the table, the infant latched on to Evans's hair. And didn't let go. The mother remained casual about it, though, as if everyone should have the opportunity to grasp Chris Evans's hair. Levels of jealousy within the room immediately skyrocketed, particularly among a couple of groups of fangirls who, of course, were also out in force.
"The younger fans are so great, I love this stuff," Evans said later that night, when the room shifted into to a fundraiser for The Pettingale House, supporting children and families in need. Then, true to simple guy form, he held out his beer, and said cheers.
50 Water St., Newburyport, 978-255-7109, fiftywater.com.